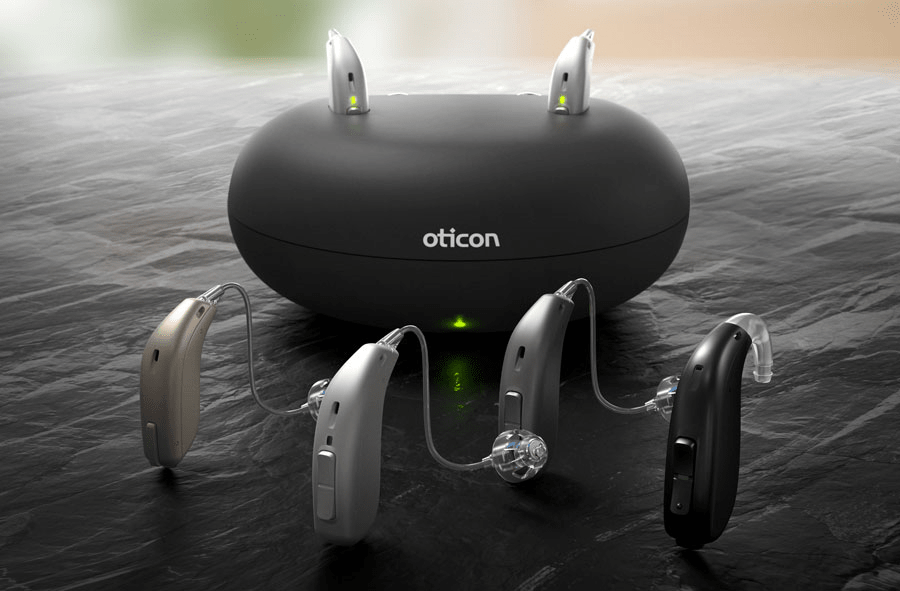 Hearing Solutions & Products
Audiocorp offers a wide range of options to meet your exact hearing needs. If you have questions or would like to schedule a comprehensive hearing evaluation, contact us today. We look forward to opening up a new world of sound to you.
The next generation of hearing care
Find the perfect size and style of hearing aids from the expert clinical audiologists at Audiocorp. We carry a full range of options to suit your hearing and cosmetic needs, including the innovative devices from Oticon and many other manufacturers.
New hearing aid technology breaks the limits of what has previously been possible and puts you in charge of which sounds you want to focus on. At Audiocorp, we take the time to explain which hearing aid solution best fits your specific type of hearing loss.
Style
Stylish options that combine performance, comfort and aesthetic.
Connectivity
Full streaming from smartphones, TVs and other devices.
Ease of Use
Recharge at night for a full day of hearing.
Discreet
Behind-the-ear or In-the-ear "invisible" options available.
Sound
Enjoy rich, crystal-clear sound all around you. No more whistling.
Hearing Aids in Fredericton and Oromocto, NB
As your skilled New Brunswick audiologists, Audiocorp Ltd. offers a range of products to enhance your hearing and improve your quality of life. We are pleased to carry the following:
Recent technological advancements have improved sound quality and comfort. Hearing aids function by picking up sound through a microphone and then manipulating those sounds through an amplifier and processor. The right amount of sound is then sent through the speaker. This simple concept has been optimized over the years and hearing aid technology has improved dramatically. Today's hearing aids sound more natural than ever before and have fewer problems, like the common annoyance of whistling. Comfort enhancements have been made and hearing aids are easier to clean and maintain.
Through our partners at Oticon, we are pleased to present information on the following topics:
For quality hearing aids Fredericton and Oromocto residents can trust for performance and reliability, turn to Audiocorp. We also invite you to read more about our suppliers.
Hearing Aid Accessories
Find Innovative Hearing Aid Accessories from Audiocorp. When it comes to the convenience of accessories for hearing aids, Fredericton residents count on accessories from Audiocorp Ltd. Serving clients throughout southern New Brunswick with offices in Fredericton and Oromocto, we carry a range of innovative devices from the leaders at Oticon. Read the descriptions on this page and let us know if you have any questions.
TV Devices / FM System
Enjoy crystal clear sound from your television or radio with the help of Audiocorp Ltd. We sell products that will enhance your entertainment experience, including TV devices and the Oticon Amigo FM System.
If you suffer from hearing loss, you can still hear the television clearly without turning up the volume with TV devices from Audiocorp. Through this wireless listening device, you can set your own volume and tone while others in the room can listen to the television at their own level. You can watch your family's favourite shows and never miss a word.
Phonak has created this system that delivers clear speech signals through background noise, providing additional support to hearing aids. The speaker's voice is picked up by a microphone which can be worn or simply placed on a table. Roger microphones have been developed to reduce background noise with a stronger signal to noise ratio, and transmit the speaker's voice directly to the users hearing aids. This allows you to fully participate in group conversations even in very noisy environments such as restaurants, meetings at work and school activities.
Assistive Listening Devices
Do you need help with your hearing? Assistive listening devices are designed to improve the hearing ability for people who have difficulty hearing or trouble distinguishing one voice when other sounds or voices are also present. Read more about our assistive listening devices below and contact us with your questions.
An amplified phone can help make phone conversations less challenging. They can be used to help make connecting with family and friends easier by allowing you to hear speech more clearly and at a higher volume.
Pocket talkers are useful in close proximity and one-on-one conversations, in situations where there is no background noise present, and when the person talking is comfortable holding a handheld microphone. We find them to be particularly helpful in hospital settings, assisted care facilities, and when the user has poor dexterity and is unable to handle personal amplification such as hearing aids.
Noise Protection & Swim Molds
When excessive noise is unavoidable, take the necessary precautions and protect your hearing with the help of Audiocorp Ltd. Our hearing protection devices will allow you to work or enjoy recreational activities safely. Featuring products from Bernafon, we have a variety of protective devices to suit your unique needs, including the following:
Enjoy maximum noise protection with this device. If sound reduction is the primary goal and the ability to hear is not as important, this is the choice for you.
If you need hearing protection and the ability to hear some low frequencies, the Noise Braker is the appropriate ear mold for you. Featuring a small filtering device, this is a good choice for hunters.
Enjoy 15dB of attenuation while maintaining great sound clarity. This is the most versatile choice as it provides uniform sound reduction across all frequencies.
Providing 25dB of attenuation, this plug offers the highest level of protection along with good sound clarity. These plugs are the preferred choice when playing brass, percussion and amplified instruments.
Keep water out of your ears with the effective swim plugs from Audiocorp. These custom-molded plugs offer the utmost comfort while keeping your ears dry.
Eliminate sound and get a good night's sleep with our sleep molds. Offering exceptional comfort, these plugs are countersunk in your ear.